Project Name: CENTRAL GARDEN
Project location:5-7 Bruce St, Box Hill, VIC 3128
Project Briefing and Building Overview
Designed by renowned Hayball Architects, Central Gardens apartments combine prestige views of leafy Box Hill Gardens with a thriving metropolitan lifestyle to deliver harmony in the heart of Box Hill.
Central Gardens apartments each include a contemporary, modern finish with air conditioning in living areas. In terms of size and shape, there's something for everyone. The range of accommodation includes a 1 bed/1 bath option, 2 bed/1 bath option, or the added convenience of a 2 bed/2 bath design.
Entry to the building is guarded with state-of-the-art security features. Safety and peace of mind are both priceless, but here they come as standard.
Lifts service all levels of the building, adding yet another element of convenience and security for all to appreciate. All apartments come with an external storage unit.
This vibrant locale is perfect for owner occupiers and retirees who consider location and convenience to be high priorities. And, being such a sought-after spot, investment returns promise to be excellent and secure.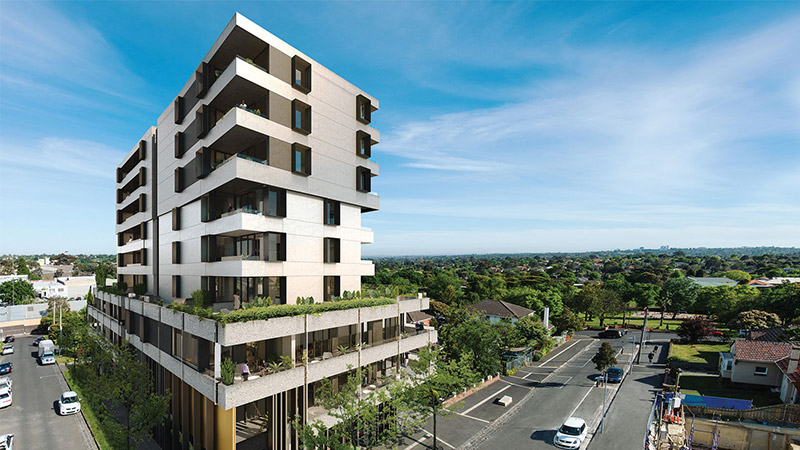 Dazzling details
Each Central Gardens apartment boasts modern luxury finishes and European appliances. Architecturally designed to take full advantage of natural light, expansive windows illuminate stunning interiors and guide eyes towards inviting balconies, while colour options provide an opportunity to express individuality.

Everything, right here
Central Gardens is a nexus of community, amenities and natural aesthetics. The nearby Box Hill Gardens parklands are a standout attraction, but with fine dining, cafes, groceries, retail and public transport all within walking distance, Central Gardens is highly-desirable for more than just its leafy surrounds.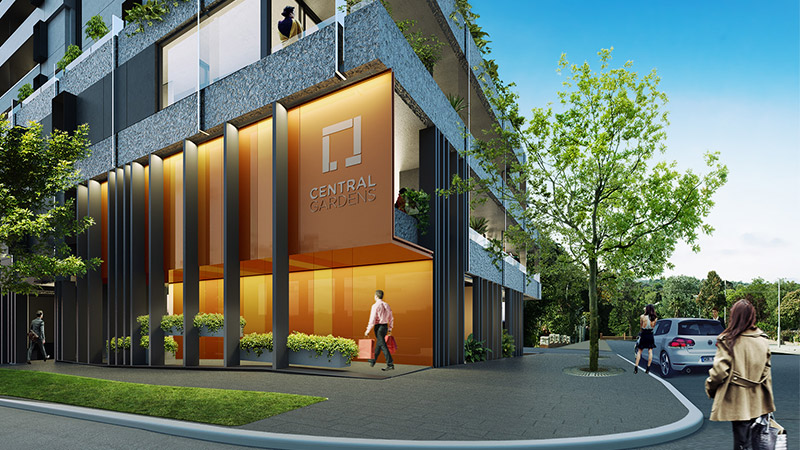 Products we supplied: Aluminium glass unitized wall, an Aluminum window, and door system,3500 SQM.
Services we supplied: Design and production, shipment
Design & Engineering Capability
First of all, we understand that technical input in design development is very important for project buildings. Our WJW team has abundant experience and specializes in providing comprehensive design-assist and design-build services and budget from the beginning. Our Engineering team will make a professional calculation base on the Local Wind Load and exact building construction conditions, and materials requirements to make flexible design solutions to meet our client's expectations.
For all building facade projects, curtain wall systems, unitized curtain walls, aluminum windows & doors system basic information are:
Elevation drawing,
Plan drawing ,
Section drawing ,
Local wind load .
Manufacturing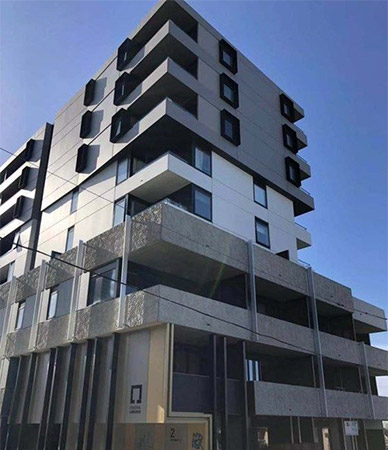 Qualified materials and good manufacturing are very important for a good project, our processes have been certified by ISO 9001 standards. Our facilities include adjacent design and production areas, contributing to the dynamics of innovation and collaboration by partnerships with material vendors and product suppliers.
Independent third parties carry out all quality control tests as per the client's requirements, manufacturing process goes through rigorous quality control exercises both by human and computerized testing.
WJW provides Team Installation services and Installation guidance services that help the design intent be translated to building reality on time and customer's cost within budget. Project teams are including experienced project managers, project engineers, site managers, and foreman/site operations leaders, Team installation services can help our clients ensure timely and successful project execution. Health and safety are the most important for all our projects, and specific method statements and risk assessments are provided for practice.
If you're looking for a way to increase production efficiency and cut down on expenses, consider incorporating a factory of your own. There are several reasons why this could be beneficial for your business.
First, a factory of your own can provide just what you need when it comes to equipment and supplies. This means that you won't have to spend time and money trying to find or purchase the necessary items. In addition, a factory of your own can offer unique advantages in terms of quality and customer service.
Another reason to incorporate a factory of your own is cost savings. By producing items on-site, you can avoid expensive shipping and transportation costs. Furthermore, by manufacturing in-house, you can keep costs down by cutting out hidden costs such as royalties and licensing fees.
Ultimately, incorporating a factory of your own can improve the efficiency and profitability of your business. If you're considering this option, contact one of our experts at Aluminium Extrusion Suppliers today for more information.