Aluminum louvers are made from high-quality aluminum powder coated or anodized to give them an attractive finish. These louvers are available in many powder coats. These louvers can have any custom color on their surface per your choice. These louvers are highly durable and can be used in the internal or external parts of your building. Aluminum louvers are lightweight and durable and can be fixed or operable as per your choice.
Louvered shutters are a flexible and smooth system of windows. There are various kinds of louver shutters available, including:
Sliding
Bifolding
And hinged
All these louver shutters can be incorporated into internal and external shutter systems created for various conditions. These louvers can add a stylish and attractive finish and look to your home or commercial building.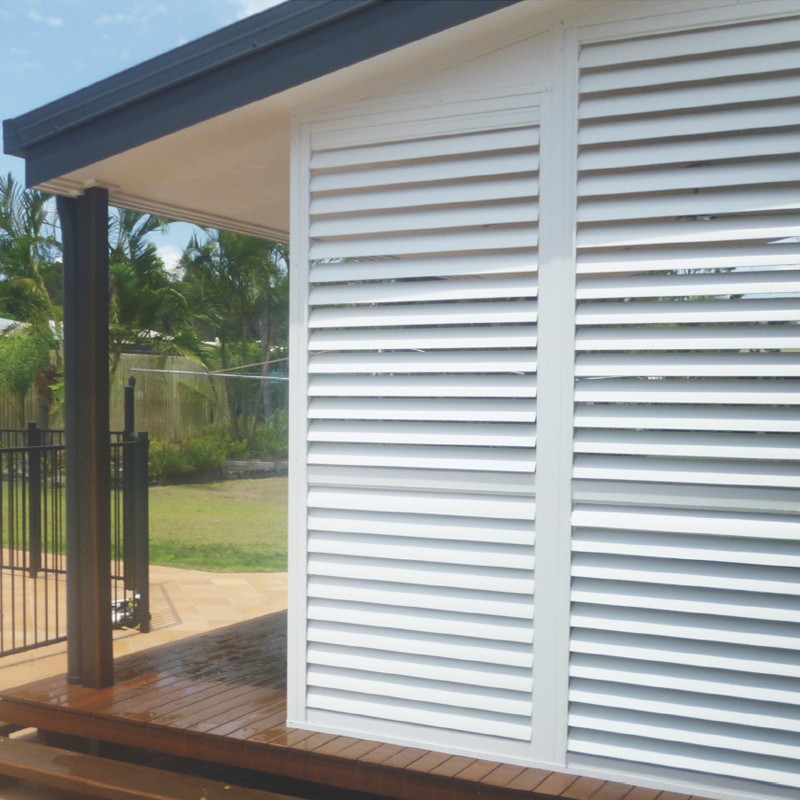 Different Options for Louvers Use
Louvers are helpful in opening roofs and sun louver systems for adequate sun shade, air ventilation, and space requirements. At WJW, we can customize the louvers according to your preferences and needs.
Different Reasons to Use Aluminium Louvers.
Louvers were used in the structure of buildings even in the middle ages. They have unique angles that have a slat-and-shutter design. Louvers control sun penetration and are cost-effective solutions for higher ventilation and providing shade from the sun. Modern louvers are made from various materials to counter external stresses. Building owners leverage the advantages of aluminum louver, such as
Lightweight-ness
Low maintenance
Versatility and visual appeal
Insulation capabilities
Eco-friendliness
And space-saving options.
Louvers are a vital addition to all kinds of building structures, for example:
Ceilings
Closets
Windows
Doors
and much more.
Aluminum louvers can help in all these places, offering a high level of functionality and adding value to your home or building.
Lightweight
Due to being lightweight, aluminum is highly preferred in several industries as a material of choice. Aluminum is 33 % lighter than steel and highly durable and long-lasting. As aluminum is lightweight, louvers made from aluminum can be installed relatively easily as compared to other material louvers, aluminum louvers are used in several profiles without compromising on their strength.
Those working on a DIY louver project need minimal help installing aluminum louvers. These louvers also help enhance the various processes' safety while lowering the damage due to the building materials.
Durable
Aluminum is a highly durable material as it has an excellent strength-to-weight ratio equivalent to a material like steel. But, lightweight aluminum has the added advantage of better strength performance than other materials. heavier materials like steel can be hard to install. As aluminum louvers are durable, they also have a protective layer on the surface, like powder coating, that makes them more valuable. They retain their look for several decades and require little maintenance.
Needs Less Maintenance
Aluminum louvers are corrosion-resistant and have favorable metallurgical properties in that it does not rust. Copper, non galvanized steel, and many other metal products are pre to rust. This is because aluminum, on exposure to oxygen, get a layer of aluminum oxide that protects against further metal corrosion. Moreover, aluminum louvers are available in powder-coated versions, saving them from corrosion. Due to its non-corrosive nature, aluminum louvers require less maintenance or repair. Furthermore, aluminum does not crumple like wood. That's why aluminum is a top-notch and cost-effective choice that can stay on for many decades.
Versatile
Aluminum is highly versatile and can be laser easily cut, bent, and molded into forms. The best aluminum louvers manufacturing companies employ laser cutting equipment to create custom customers in various shapes and for serving different functionalities. You can also get decorative louver shutters if you talk to aluminum cutting manufacturers. You can order for lovers with wider and fewer blades to get more air and wind. Certain tighter louvers will also provide water sealing if you want to use them on the balconies.
Add to the Aesthetics
Aluminum louvers are the best choices to appeal to all modern buildings. Aluminum Louvers can have a metallic finish. They help you get an aesthetic appeal to your interior space and improve the home's curb appeal when structured outdoors.
Louvers can add to the innovative design as they get added as awnings in windows. Users can easily retract the louver shutters in the rain and can open them in the summer months when you need protection from the sun. Moreover, louvers help to keep buildings ventilated, cool and well-lit.
Aluminum louvers are also helpful in modern windows that swing from the outside. One can also fit the operator handle in the louvers to give convenient access.
Heat Insulation
Aluminum louvers give a high level of insulation for different kind of building interiors and helps improve a home's or commercial space's energy efficiency. While maintaining ventilation and heating and cooling for buildings can be a challenge for the home or commercial space owners, louvers can help in the long run to keep off the trouble. Louvers improve the efficiency of your HVAC systems as they help expel out the hot and stale air of the interior and maintain the right level of insulation as they get closed. You can lose and open them per requirement.
Aluminum louvers are highly effective in providing good insulation in buildings. However, as the lats are opened to allow more ventilation, they will present eternal debris and other elements entering the internal space.
Also, using other materials to give better temperature control and sound insulation, one can customize aluminum louvers for better insulation. It also allows the building occupants to feel more relaxed and comfortable in various weather conditions.
Eco-Friendly
Aluminum louvers lower the requirements for ventilation through the use of energy. They provide insulation, and thus while ventilating space, they also help to help in better temperature control naturally in winters. In addition, they improve the efficiency of HVAC systems indirectly. Thus, they have a positive impact on the environment. Aluminum louvers are eco-friendly options that form an essential part of the building's structure.
Aluminum louvers are also highly recyclable. When you do not use the louvers, you can use scrap aluminum for various purposes as it does not degrade in quality.
Takeaway
Aluminum louvers will function as essential structural components of your building, allowing for better ventilation, privacy, and managing space division. The louvers have several benefits, such as being durable, lightweight, aesthetically pleasing, custom designed, eco-friendly, low-maintenance, and providing better insulation. In addition, these louvers are cost-effective and help to make your building more comfortable.
At WJW Aluminium Windows Manufacturers Co.Ltd., we offer custom-designed louvers per your requirements. Reach out to us to get more information about high-grade aluminum louvers. We design custom-b